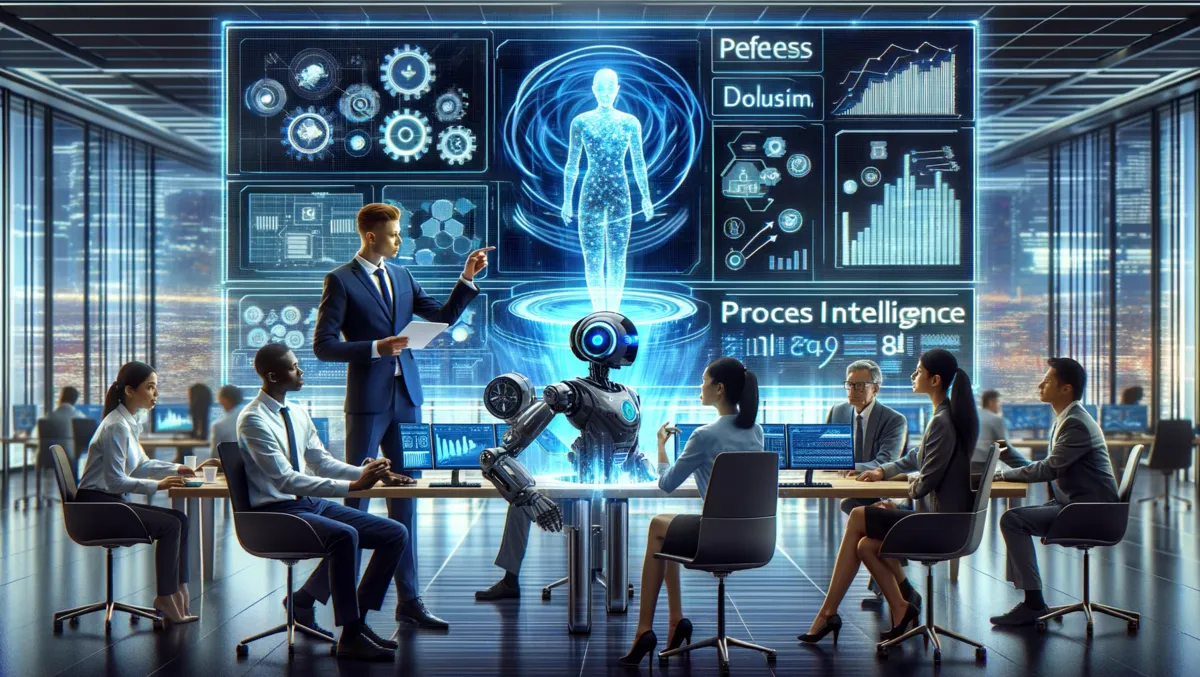 How process intelligence is your competitive edge in tough markets
Wed, 8th Nov 2023
In a world where artificial intelligence (AI) and automation are becoming commonplace – from the realms of science to banking and business environments – we need to be more intelligent about the way organizations operate and the management of work processes. Only through in-depth knowledge of these tasks, based on empirical data, can we unlock ways to transform business units and the enterprise.
Confronting and solving big problems is a painful process which most of us avoid, but in business, to stay ahead and remain agile and compliant, organizations need data-driven insights to be able to transform, optimize, and automate the right processes at the right time. It's not the quantity of processes you automate or give over to AI but the quality.
Responding quickly to changing market conditions is key to staying ahead of the competition. Recent interest rate rises around the world, supply chain bottlenecks and increased regulatory compliance in the finance sector are further compounding and limiting fragile growth opportunities facing businesses.
In the constant bustle of business, inefficiencies are inevitable. Process automation aims to address these deficiencies, freeing teams from repetitive tasks and delivering better, faster results.
But knowing where to start or what processes lend themselves best to automation and optimization is difficult. Gathering this insight can be complex, time-consuming and resource-intensive. With thousands of processes and employees, wading through the details and translating these insights into deployable, runnable processes can take weeks or months. And, once in production, it's hard to know whether these process automation are meeting SLAs, delivering results, and doing so in a compliant and cost-effective fashion.
This is where process intelligence can help by taking an automated, fact-finding approach to improving business value. It provides real-time insights and complete process visibility to identify what processes will deliver the highest return on investment (ROI). It helps you better understand what drives various process behaviours and identify potential improvements to address them.
Once you select the processes with the greatest value, integration with the larger portfolio helps you to generate detailed process definitions, process models and runnable automation rapidly, all through an easy-to-use, customizable interface and without the need for code.
But that's not all. Process intelligence also provides 360-degree visibility into your people, systems, and processes, enabling you to manage and continuously optimize their performance. And by automating responses to process deviations, you can be sure your processes will consistently operate at peak performance across the enterprise.
Banking and Finance
As more banking customers switch to digital and real-time apps, offering greater and more flexible ways to access their money, financial service providers are using smarter analytics to stay competitive. While this digital transformation is great for the customer, it also supports risk and regulatory compliance priorities.
By using process data to increase growth profitability and improve efficiencies, financial institutions can not only adapt to the ever-changing business climate but to evolving regulatory and compliance demands. Understanding processes and tasks at a macro and micro level can reveal unnecessarily complex or sub-optimized processes that add time and cost to routine tasks and obstruct customer service.
In the financial world, it's easy to let critical processes grow in complexity to meet regulatory demands across multiple regions. But these often contain numerous manual tasks, leading to handoffs with bottlenecks, errors and omissions, reworks, and repeated data entry. In an environment of declining margins and increased customer expectations, having deep insight into potentially flawed processes and tasks that could be devastating to the customer and the bottom line is a crucial step.
Using process intelligence to analyze system log file data in near real-time, businesses can detect where things are going wrong and how to significantly improve them to elevate customer service, increase accuracy in reporting and compliance, streamline processes, enhance efficiency and eliminate wasteful reworks.
A financial services firm with more than US$1 trillion under management and five million clients came to us with a conformity issue. The firm's goal was 100% compliance with investor onboarding to mitigate regulatory risk, compliance violation, and exposure from fines or PR scenarios.
It soon became clear that the team could only monitor 15% of the processes, leaving them open to possible litigation and risk. Using process intelligence, compliance is now 100% checked with a fifth of the resources, which saves the firm $2 million a year.
When regulatory fines for compliance violations are measured in tens or hundreds of millions, or an interest rate change makes products uncompetitive, the faster teams can analyze customer data or products, the more rapidly they can identify issues and solve them.
By creating a simple automatic baseline with key criteria, challenges can be analyzed immediately and upgraded, allowing people, processes, and systems to be set in place. Full visibility of process bottlenecks offers a complete 360° view, and drilling down into each task allows actionable insights, clearer decision-making, and improves results.
Healthcare
The global health system has similar issues when managing patient journeys, which are equally complex and often require life-changing decisions to be made without complete insight.
The healthcare sector must balance the patient experience and throughput with compliance risks. Intelligent process mapping is a key way to understand which areas of treatment are working well and where improvements can be made. Through automating and/or optimizing processes, upgrades can be made, and ever-decreasing budgets are managed while focusing on the delivery of quality patient care.
In this industry, one of the biggest issues is the management of patient and health insurance data, requiring huge amounts of budget and personnel. An 11-hospital health group re-processing patient insurance claims asked us to help them improve workforce optimization and compliance for employees and make cost savings.
By improving the quality of information collected by staff during patient procedures and appointments, process intelligence has supported and streamlined decision-making.
In a matter of hours, our process intelligence solution was able to identify and eliminate wasteful duplicate insurance processes and significantly improve compliance rates from 40% to 87%. With the team now monitoring 100% of all scheduled interactions with patients - up from just five per cent – the group has transformed its revenue cycle by identifying $5.5 million in potential cost savings.
Accelerate automation value
In most cases, unified intelligent automation is able to streamline decision-making through the use of everything from chatbots to digital workers that can monitor and predict outcomes that are faster and more focused.
Process intelligence has the power to assess process performance, detect bottlenecks, and discover automation opportunities, optimizing any aspect of daily operation, improving customer experience, and reducing costs.
So, while process intelligence can optimize on a small scale, such tasks must have broader relevance to be worth the effort and offer more ways for greater human insights into any business, improving essential processes and customer experience.
Offering 30-80% time savings to develop automation, organizations are seeing the advantages of reliable, intelligent process tools and predictive analytical tools that can be integrated and deployed flexibly in the cloud or on-premises.
In rapidly changing markets where competitive differentiators are critical, advances in process intelligence technology mean greater efficiencies are possible by weaving AI, machine learning and robotic process automation into any organization.
With customers able to better interact with their brands, resulting in more focused data-led operations over time, organizations looking to digitally transform should look at their existing platforms and make process intelligence a greater part of their infrastructure roadmap.